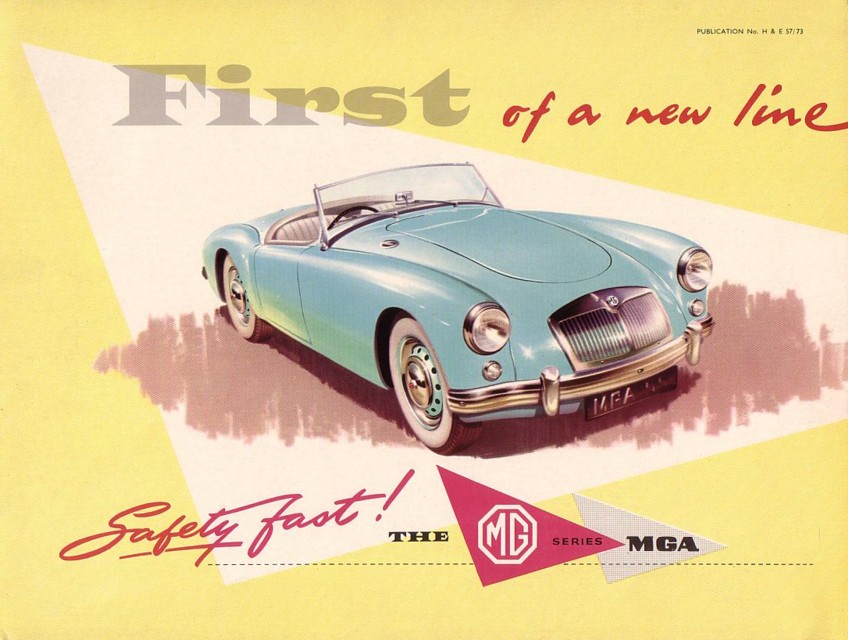 The Story About An MGA Restoration

I wrote this story for a magazine, but it never appeared. It laid dormant on my computer hard drive for quite some time, so I finally decided that maybe I ought to put it to good use by posting it on this website. Perhaps someone might benefit from reading about my MGA restoration experience. This car was restored to be a driver as originally intended, and as close to original as possible.
Several years ago, I received a telephone call from a friend who lived over a thousand miles away in Titusville, Florida. He was calling to let me know that he was planning to sell his 1958 MGA 1500 restoration project that he reluctantly didn't have enough time for. The car was going to be listed in the Orlando newspaper the following day, and he wanted to give me first dibs since I had shown an interest in it. I told him that I wasn't sure whether it would fit-in with my current scheme of things, but I would talk it over with my wife to see what she thought about this idea.
After I hung up the phone, my wife [who was within listening distance] inquired about the telephone call. Feeling a bit hesitant and not prepared for a good sales pitch, I told her about the conversation. To my very pleasant surprise, she said "so why don't you buy it!?" I couldn't believe my ears! I immediately returned the call and we made an agreement to buy the car over the telephone. I had previously seen photographs of the car, and judging by the photos and his verbal description, I had a pretty good idea what the car looked like. The following day his telephone started ringing at 7:30 AM from prospective buyers who had already spotted the ad in the Orlando newspaper. Needless to say, he canceled the ad very quickly. Part of the agreement was that he would deliver the car to me in northern Indiana. He was good on his promise, and one month later the car was delivered to my doorstep in the back of a U-Haul truck. After seeing the car in person for the first time, my initial thoughts were, "where do I begin?".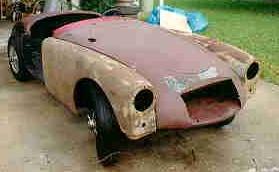 MGA in Florida Driveway
I was initially overwhelmed since I had never taken on a job quite as extensive as this one. I had once refurbished my grandfathers 1957 Dodge D100 pickup truck, and did the same with my 1972 Triumph GT6 MKIII, but this car was going to require a lot more work. It was hard for me to tell for sure that it was an MGA! The saving grace was that the frame, body tub and other body parts were solid, and would not require any metal replacement. They only needed to be stripped down to bare metal and refinished.
I was told the drivetrain had been worked on years ago, but I had no idea what had been done or by whom. From other rather limited information I have collected, the car spent most of its life in Charlotte, North Carolina, and was stored in the back of a tire store where its original owner worked. Many years later the car was transferred to the owners home and then stored in a walkout style basement. It stayed in that basement for many years until my friend purchased it in 1993. Once he took posession, he transported the car and its parts to his home in Florida and stored it in his garage until he sold it to me. I was determined not to store it, but rather, get it back on the road where it belonged.
Since most of the car had been disassembled during the late 1960's, I had no account as to how everything would go back together. The parts were stored in boxes and bags, but none were marked. My first plan was to research and learn about related books and reliable parts suppliers. The first books I purchased were the BMC, MGA Workshop Manual, the Haynes Owners Workshop Manual for the MGA, and an old, well used MG workshop manual published by Scientific Publications. I learned from my GT6 project that if one manual doesn't answer a specific question, sometimes another will, so it's important to buy as many books on the subject as possible. I also learned that each book tends to explain procedures differently, and therefore, the more workshop manuals you own, the better. I also purchased a book titled "The Original MGA" by Anders Ditlev Clausager. This book was worth its weight in gold, especially when trying to figure out what the proper MGA should look like. Another great book that deserves a very honorable mention is the A-Antics tech book. This book includes a collection of technical articles written about the MGA, collected from various club newsletters and is distributed by the Michigan Chapter of NAMGAR (North American MGA Registry). Joining NAMGAR is a must if you own or are interested in owning an MGA.
I found the parts suppliers catalogs to have very good descriptions of assemblies, and parts were very easy to come by at fairly reasonable prices. In addition to the parts catalogs, I purchased several instructional books on body work and painting techniques from Classic Motorbooks located in Wisconsin. Publications such as British Car Magazine supplied very well written technical articles covering many different types of British cars.
Once I had studied the books, I decided to start sorting all of the parts that had been stored in numerous coffee cans, boxes, bags, etc. Since none of the parts had been labeled or sorted in any way, I found the parts suppliers catalogues to be very helpful when deciding what area of the car the part belonged to. I bought large and small ziploc bags and started to separate all of the parts into categories. If I wasn't quite sure where the part belonged, I would put it to the side, hoping that eventually it would be needed somewhere. I still have parts leftover that I cannot identify.....figuring they must belong to a different car altogether.
I originally marked the bags with an indelible marker, but found that oil and grease would remove the markings, so I decided to put cards on the inside of the bags with the description marked on them. This seemed to work very well. Normally I would have taken plenty of detailed pictures of the car inside and out prior to disassembly, but this car was already in pieces, so that wasn't an option.
Once most of the sorting was complete, I proceeded to disassemble what was left, and prepared to separate the body tub from the chassis. First I needed to figure out where all of the numerous mounting bolts were hidden and removed them one by one until I could tell the body tub was loose from the frame. Next I supported the cockpit area with wooden supports to keep it supported so that when lifting the body tub off of the chassis, it would keep the body in its original shape. This is very important because the only thing supporting the bare body assembly are the sils, and they aren't capapable of supporting the body while lifting at both ends of the chassis.
Once the wood supports were secured in place, the tub and chassis were separated with great care. After many years, the chassis and body tub were a bit hesitant to be separated from one another. Once the body tub was set aside, I was very pleased to see that other than some surface rust in areas that were prone to hold dirt and moisture, the frame was in very good shape. Fortunately, MG built the MGA frames using a heavier than usual steel for suspension rigidity purposes, and this has been a benefit for all restorers. I decided against disassembling the chassis due to the very well preserved condition, so I removed all of the surface rust to bare metal, and then primed with Corroless sold by the Eastwood Company. I then painted those areas with black frame paint to match the original paint.
The suspension and steering were in very good shape, and the engine had been rebuilt during the late 60's by a NAPPA shop that the original owner did business with in Charlotte. I did inspect what I could, but decided to have faith in the person that did the work almost 30 years earlier. Since I have not spoken with the original owner, all I had to go by were the receipts that were supplied with the car. I was assured of the engine's condition when I removed the oil pan to get a view of the inside. I found all of the metal to be very well preserved with assembly lube smeared over everything. For some unknown reason, the engine exterior had been painted Chevy orange, so I decided to strip and repaint everything the proper MG color. Maybe originality wasn't as important then as it is now. The engine exterior components were refurbished or replaced where necessary.
The transmission was bolted to the engine, and appeared to be in good working order. I pulled the gearbox cover to get a look inside, and found it to be very clean. I decided that it probably had been serviced or flushed out at some point, so I decided to leave it alone and check things out when I take the car for its first test drive. Not always a good thing to do, but I felt confident about it, so I went with my instinct.
I rebuilt the hydraulics with a new slave cylinder for the clutch and new wheel cylinders for the brakes. I also purchased new brake shoes, brake drums, brake lines, and had the master cylinder re-sleeved and rebuilt by Apple Hydraulics. I also sent the company my old master cylinder, and they sent me an original rebuilt unit at a set price. Unfortunately, the first two units leaked at the dust seal, and had to be returned. The company finally determined that since I was using silicone brake fluid, the brass sleeved cylinder bores needed to be bored with a smoother finish than normal due to the lubricity of the silicone fluid. In other words, the fluid was seeping past the seals. This must have been the solution since the third unit has worked fine. I would definately deal with Apple again, and was very happy with their customer service. They weren't satisfied until I was happy.
I now had a completed rolling chassis with an engine that was just begging to be started for the first time in almost 30 years. After mounting the freshly painted fuel tank and connecting all of the fuel lines, it was time to try my luck. I double checked my valve timing and clearances, and double checked everything else I could think of. I adjusted the ignition timing statically according to my workshop manual, and made sure the rotor was aiming at the correct position while the number one cylinder was TDC.
I turned the key and listened for the electric fuel pump clicking, then pulled the starter. Crankity, crankity, boom! Crankity, crankity, boom! Crankity, crankity, crankity boom! All I got was a backfire through the exhaust! I tried again but heard nothing but backfire! I double and triple checked everything but could not get the engine to fire. After doing some research, I decided that my engine timing might be off 180 degrees. My manual described how to check for this, so I pulled my timing chain cover and checked to make sure that everything was set up properly. After checking everything out, I found that the camshaft keyway was 180 degrees off from what the manual described, and when setting up the timing using the keyway to help determine the proper position, the person that rebuilt the engine inadvertently set it up 180 degrees off. The solution was simple. I rearranged my spark plug wires so that the firing order corresponded to the new orientation. I reassembled everything, turned the ignition key, listened to the fuel pump, pulled the starter knob, and the engine fired right up! Crankity, crankity, vroooooom!!! What a fanstastic sound!! I was so excited I ran inside the house to retrieve my recorder and made a recording of the sound of the engine so I could send it to my friend in Florida to let him know what he was missing! I don't quite understand why the cam in my car is different, but the car runs great nonetheless, and the fact that it sat idle for so many years doesn't seem to have affected it in any way.
Next it was time to decide how I was going to strip the body tub, wings, and aluminum skinned doors, bonnet and deck lid. Since I had done business with a local sandblaster that has a reputation for being able to sandblast sheet metal without distortion, I decided to take a few parts to him to check out his work. Sure enough, the parts turned out clean with no visible distortion. Feeling good about this, I had him do the body tub and the rest of the steel body parts as well. I should note though, that sandblasting sheet metal in the hands of someone inexperienced can be disasterous, and large flat surfaces are best off being stripped in a different manner such as bead blasting, which generates less heat and distortion, or even aircraft paint stripper. The aluminum parts should not be sandblasted. You will read about the aluminum parts later.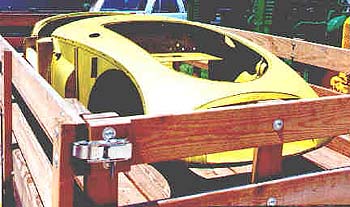 MGA Body Tub Coated With Zinc Chromate Primer (Navy Formula 117)
After cleaning the bare metal with a PPG cleaner, I added a coating of Zinc Chromate pre-wash etch primer, also known as Navy Formula 117. This is the same etch primer that was formulated by the U.S. Military many years ago for improved protection and paint adhesion on steel or aluminum, and is especially important to use when two dissimilar metals like steel and aluminum are mated together causing a galvanic reaction. This product is also used on the LTV Hummer that is produced locally. The zinc chromate pre-wash etches to the metal and creates an excellent adhesion surface for paint. It has a high zinc content and protects against corrosion very much like galvanizing.
Next I sprayed the parts with PPG DP50 epoxy primer, and then painted the back sides of the wings and underside of the body tub with PPG DAR polyurethane paint. I did not paint the outer body areas yet because they require more work for a good finish. I chose polyurethane paint because it is user friendly, provides a very nice finish, and is what I feel looks a lot like the original finish. It is also very durable, which is very important for this car because it will be driven regularly. Since I was not concerned with a perfect finish on the hidden areas, I painted directly over the epoxy primer. Next I primed the rest of the surfaces with PPG K36 acrylic urethane primer surfacer. The K36 primer sprays on thick and helps fill small dings and scratches that are common on an old car. It also wet sands very nicely.
After all the priming was done, I wet sanded the parts and body tub exterior with 3M 280 grit wet/dry sandpaper, using a half sheet block sander that I purchased from the Eastwood Company. I used this half sheet block sander for the larger surfaces and a smaller block sander for the smaller surfaces. I prefer the larger half sheet sander for larger surface areas over the smaller block sanders because due to its larger size, it will sand over small dents, ripples and voids, instead of following the imperfections making them easier to identify and correct. I always sand in a straight line, not in a circular pattern. According to one of the books I read, it recommended sanding in an X pattern, sanding straight in one direction for a while, then crossing in the other direction. This method seemed to work well for me.
After all of the wet sanding, I filled all of the more noticeable dings, and scratches with 3M Red Spot Putty. I sanded, refilled and sanded again until all were to my liking. I then cleaned the surfaces with PPG DX330 grease/wax remover and sprayed the surfaces again with a coat of K36 primer. Once the primer was dry, I sprayed a light coat of black guide coat (Eastwood Company) on the surfaces. I then wet sanded the surfaces with 280 grit wet/dry sandpaper. Once the surfaces had been wet sanded again, the small imperfections (low areas) appeared as black. Since the K36 primer is a light color, the black guide coat showed all of the imperfections. I then repaired the areas, and repeated the procedure until all traces of imperfections were gone.
The body surface was now ready for the final wet sanding using 400 grit wet/dry paper. I sprayed another light coating of guide coat on all of the panels. I would now wet sand with 3M 400 grit wet/dry sandpaper until all traces of guide coat were gone. Once this was accomplished, I let the panels dry and put them in a very safe place until I was ready to paint them.
Next I had the aluminum over steel skinned parts to contend with, which includes the doors, bonnet and deck lid. I decided to send these parts to a local bead blaster due to the more fragile nature of aluminum. Again, if you have someone bead blast your aluminum panels, make sure they know what they are doing! If you don't feel confident having the aluminum bead blasted, you can use aircraft paint stripper. A little more work, but much less expensive. Once I got these parts back from the bead blaster, I inspected them closely, and then treated them with PPG aluminum cleaner, which cleans and removes oxidation from the aluminum. I then cleaned the parts again with water mixed with a small amount of mild detergent. I allowed the parts to dry, then coated them with zinc chromate pre-wash, then PPG DP50 epoxy primer, then repeated the same procedures as used with the steel panels to prepare them for painting.
It was finally time for the paint. Due to my limited amount of working space, I decided to paint the body tub first and the body panels at a later time. This can be a problem as far as color match is concerned, since paint mixing and even the atmospheric conditions from one day to the next can affect the color outcome. I figured painting the body panels together was most important. In my case, everything turned out fine. I carefully masked off the painted surfaces, exposing only the primed exterior surface. I purchased a roll of masking paper and a roll of special 3M masking tape specially made for painting. I made sure that all of my tape lines were in areas that would not show after the car was assembled.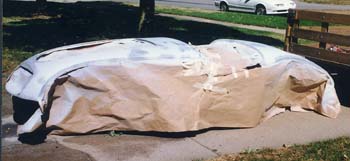 MGA Body Tub Coated With K-36 Primer
Next it was time to clean the paint booth.....which in this case is my old dirty, dusty garage. I used my leaf blower to blow as much dust and dirt out of my garage as possible. Then I rinsed the floor with the garden hose and swept out the excess water. Once I felt comfortable that the garage was sufficiently cleaned, I built a cocoon out of plastic drop cloth found at the hardware store. I lined the ceiling and hung the sheets on all four sides of my makeshift paint booth to shield out any dust that might float onto the paint. Now I had an environment that I felt was suitable for a decent paint job (fingers crossed).
While the body tub was still out on my driveway, I blew if off with my leaf blower to remove any loose particles, then cleaned the unpainted surfaces using PPG DX330 on a special lint-free cloth. Once dried, I went over the surface with a tack cloth to remove any leftover small particles that might be hanging onto the surface. Now the tub was ready to be carefully rolled into the paint booth.
Once the tub was in place, I made sure the plastic drop clothes were secure and would not come loose while painting and destroy my paint job. I also made sure I had enough travel with my air hose, and secured what was not going to be used so it would not get in the way. Next I changed into my painting attire and got started with what has turned out to be one of the most satisfying parts of the entire restoration process.
Since I was painting with a polyurethane paint, I made sure I had a suitable respirator. I chose to use a 3M disposable respirator that filters out even the tiniest of particles. This was recommended by my paint supplier and is the same respirator I used earlier with the primer. It is very important to use an approved respirator due to the toxicity of these paints. There are more expensive masks on the market, but this one does the same job at a more affordable price for the home hobbyist. If I were doing a lot of this type of work, I'd opt for the more expensive fresh air system.
Once the paint was poured through a filtered funnel and properly mixed with the reducer and hardener, I was ready to spray. Since I was a little bit behind the times, I was using a regular HVHP Binks 2001 spray gun rather than a more modern HVLP system.
First I sprayed a tack coat. This is a very light initial spray on the surface that, once tacky, helps the first full wet coat adhere better without sagging. Once the tack coat has dried sufficiently (I test this by touching the paint in an out of the way area with a vinyl glove. If the paint is tacky and does not pull away in a string, it is ready for the next coat), I sprayed my first full wet coat, following the procedures that I had learned from reading numerous books on the subject. Back and forth evenly, overlapping slightly, in a mechanical-like motion. Once the first wet coat had dried using the same vinyl glove procedure, I sprayed a second full wet coat, then cleaned everything up and went in the house while the paint dried, being sure not to let anyone open any doors to the garage that might allow a draft that would cause dust particles to get onto the paint surface.
After about 60 minutes, the paint had cured to the point where dust was supposedly no longer a problem. This is called the "dust free" time. This means that dust will no longer stick to the surface, but since the paint was still soft, I continued to leave the work undisturbed.
The next morning, I somewhat cautiously stepped out in the garage to look at the finished work no knowing for sure what to expect. What I found was a beautiful, shiney, defect free paint job. I was extatic to say the least. Words cannot explain the feelings one has at this point of a restoration after all of the hard work begins to pay off. I used these very same basic proceures for the rest of the parts to be painted.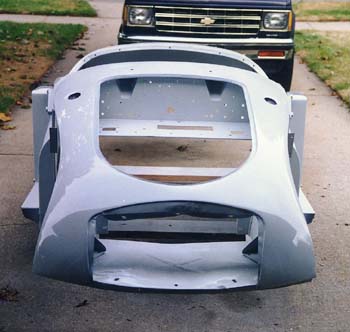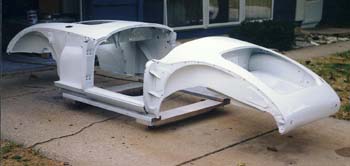 Now it was time for the careful reassembly. First was the body tub. I needed to find plenty of help to carefully set this cumbersome hulk of metal back in place without damaging my fresh paint job. As luck would have it, I had some unexpected visitors one Sunday morning. Of all people, it was my friend from Florida who sold the car to me! He even brought his dad, wife, mother, son and daughters along for this "surprise" visit! Just as they arrived, another friend happened to stop by for a visit. What great timing! Little did they know, they would be put to work! About a half-hour later, with a few adjustments here and there, the tub fit back on the chassis very nicely, and was bolted into place.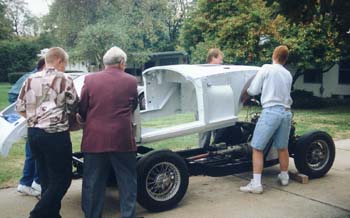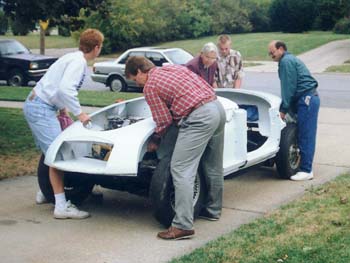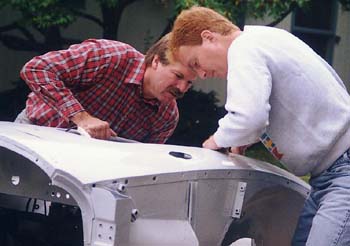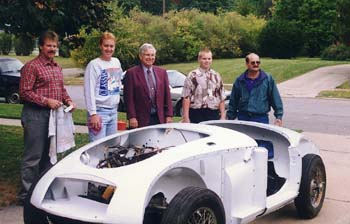 Okay, so who's buying the pizza!?!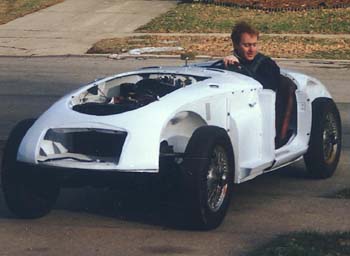 The long awaited test drive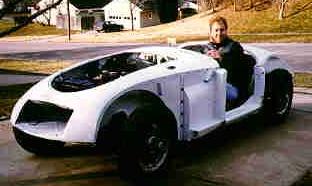 Once the visitors collected their dues, I spent the next few weeks installing the wings, bonnet, deck lid, and doors (fenders, hood, and trunk lid for you Yanks). Fortunately these parts had been on this car before, so they fit very nicely. Since a lot of the body parts to these cars had been tweaked to fit at the factory, parts from another vehicle may have had to be worked on a bit to make them fit properly. Since the bonnet and deck lid hinges hadn't been marked, I had no idea which came from where, so I had to do some reshaping (bending) to make it all fit properly. I used as much of the original hardware as possible but purchased new wing beading for the wing to body assembly.
I purchased any new nuts and bolts that were needed from various parts suppliers. All of the hard to find proper fittings and hardware were purchased from Todd Clarke at Clarke Spares. Todd Clarke specializes in MGA's, and if he doesn't have it, he can most certainly tell you where to get it, if it's available. The doors were a challenge to align, as I had to do some tweaking to the hinges to make them fit. I had to keep reminding myself that these cars never did fit together perfectly, so some things you just have to settle with.
Since the original bumpers and overriders were in pretty bad shape, so I ordered remanufactured parts. Other than some slight differences, I was very happy with the quality. A person with a trained eye may be able to determine they are not originals, but most people would not notice. The same goes with the grille. I have the original, but when compared to the perfect shiney chrome bumpers, the small dings and scratches looked awful, so I ordered a new grille. Again, the quality is very good. I should mention that the prices for most of these parts are very reasonable, and I feel that the manufacturers have done a very good job of supplying very good quality. The price of a reproduction chrome part versus rechroming made it desirable for me to go with remanufactured parts. I am holding onto the original parts though, just in case I do decide to have them rechromed down the road. Sometimes just knowing that the parts are the originals is important to the restorer, and I do feel that the more original the better, when possible.
I removed the old cracked tires from the wire wheels and checked each wheel for wobble by setting up a simple jig that I made. I placed an indicator at the face of the outer portion of the wheel, and while spinning the wheel on the hub, I could determine how true the wheels were. In some cases I had to tighten a spoke or two, and if I was not able to tighten the spoke, I would cut it and replace it. Once the wheels were trued within .125", I took the wire wheels to the sandblaster and had them stripped to bare metal. I then sprayed them with zinc chromate etch primer, and top coated them with correct wire wheel paint I purchased from the Eastwood Company.
New tires were purchased, including inner tubes and rubber liners that protect the inner tubes from the spoke ends as well as sealing the inner tire from outside elements. Silicone sealant can also be used on the spoke ends in addition, especially inside the hub where the grease on the splines will work its way through and get all over the visible parts of the wheel after driving (I learned this from experience). When I removed my old inner tubes, I noticed they had cuts at the base of the valve stems, possibly caused by the jagged hole in the wheel that the stem sticks through. I decided to protect against this, so I installed protective plastic inserts purchased from a local tire store. These inserts fit over the inner tube stem base, and protect it against the holes edge in the rim. An inexpensive safety precaution. I greased the splines and mounted my fresh tires and wheels with my new shiney knock offs, and the car was now looking nice.
With all of the new chrome and trim in place, and most of the electrics hooked up, the car was ready for the road. Up to this point, the only trips I had taken were short test runs around the block. Finally, during one quiet dry Spring morning when nature had washed all of the winter road salts off the streets, it was time for a drive. I hopped into the drivers seat, fired it up, and took a nice long, enjoyable country drive. Needless to say, I've been enjoying the car immensley with only a few minor problems to tweak. There are still a few loose ends to take care of, and they will be dealt with during the next non driving season which allows me to spend some quality time with the car indoors and helps remedy cabin fever during the winter months.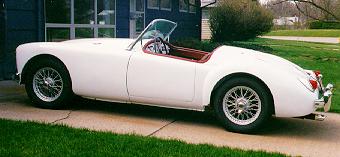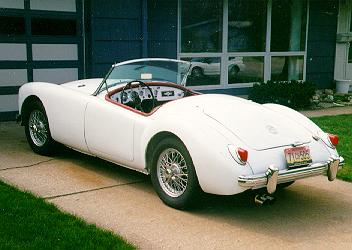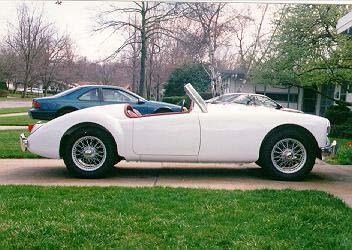 Some of the important things I've learned from restoring this car:
Old British cars are built so simple that any average guy like myself can accomplish a decent restoration with very simple tools as long as they have the desire to learn from reading books and asking a lot of questions. If there is a task that cannot be performed due to lack of resources, there is almost always a business or fellow enthusiast nearby who can lend a tool or help perform the task. I have found there to be an abundance of enthusiasts at local British car shows, club meetings, or other British car related events or activities that are very willing to answer questions and help out.
When choosing a parts supplier, I found that dealing with a person who has first hand experience with these cars is very helpful. They have a much better feel for what your needs are than someone who has never laid a hand on one of these cars. There are many small British car related business owners, who own British cars, and they have made their hobby their business. Any of the British car clubs can help you select a good business to deal with. They have plenty of experience.
Parts and information sources that were very helpful:
Ed Kaler at Just Brits
Moss Motors
Victoria British
Classic Motorbooks
Clarke Spares & Restoration
The Eastwood Company
North American MGA Registry (NAMGAR)
Scarbourogh Fair
British Car Specialists
Dicks Auto Paint & Supplies
British Car Magazine
Niles Chemical

North American MGA Registry
Back to Reading
Back to My Stuff

British Car Week
Main Page
© 1997/2015 ~ Scott G. Helms for British Car Week